Americus Georgia is the heart of Carter Country. It is the county seat of Sumter County that includes the towns of Andersonville, Leslie and Plains. Sumter County is an area characterized by pecan groves and cotton fields. Americus is centrally located relative to the other towns in Sumter County and therefore serves as a basis for exploration of famous and interesting Southwest Georgia attractions.

Americus has maintained its small town charm while embracing progress. Victorian style homes and churches are the focus of the Historic District tour. Rylander Theater which opened in 1921 has been restored and is a cherished and prominent cultural venue in Southwest Georgia. Americus is also a stop on Georgia's Black Heritage trail. Thirteen sites in Americus are significant to African-American history in Southwest Georgia.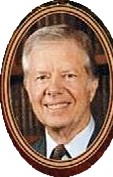 Georgia Southwestern University prepares a workforce for careers in business, computing and mathematics, education, nursing and liberal arts. Georgia Southwestern athletics is a source of sports recreation that includes youth camps for Girl Scouts, Boy Scouts and youth football.

Faith is a major part of the small town values of the Americus community. Koinonia Farms, an International Christian community founded in 1942, demonstrated racial equality during a dark period in American history in the South. After withstanding challenges due to racism, Koinonia became the birthplace of Habitat for Humanity. Today, the values demonstated in Americus through the ministry of Koinonia reach around the world.

Accommodations in Americus include a restored 19th century luxury hotel that is once again the crown jewel of Southwest Georgia.